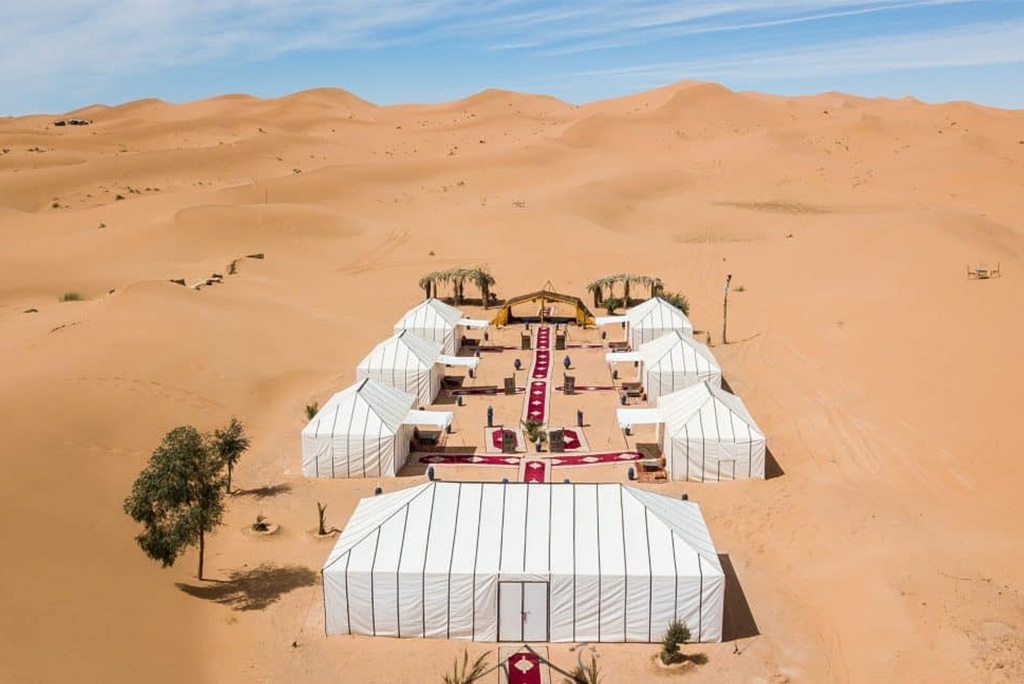 Have you ever wondered what it would be like to travel to the great Sahara desert. The largest hot desert on the face of the earth, to discover all its secrets and mysteries? With Positively Morocco Tours, this dream of yours will not be so hard to attain anymore. Going on a Morocco Sahara tour can be a magical experience allowing you to connect with a part of nature. That you may have never seen before. And learn about the stories and the way of life of the indigenous nomads who live there. In addition to all of this, there's so many other things to discover. And fun activities involved in a Morocco Sahara tour that you definitely wouldn't want to miss! Like camel trekking, camping, music, good food, stargazing and many more. Also keep in mind that you will be accompanied throughout the whole journey by your guide. Who specializes in the history of the area. Meaning that on top of safety, comfort, and convenience. You will be getting detailed explanations about every aspect of the history and culture of the desert.
But first of all, how does a Morocco Sahara tour even start?
It all depends on the city where you land in Morocco, or the type of tour you're taking. Positively Morocco tours offers you a wide range of tours that include a visit to the Sahara desert, all varying in itinerary and length. You can actually fit a trip to the Sahara desert anywhere you want in a tour given the sufficient time length. But generally, the two main big cities from which you can head to the desert are either Fes or Marrakech. This is a great advantage for you since you will get to enjoy a scenic ride in the car. With many amazing spots and locations to stop at along the way. From Fes, you will cross the Middle Atlas Mountains and beautiful Ziz gorges before getting to the desert; as for Marrakech, you will enjoy driving through the High Atlas Mountains then visit many sites. Such as the Todra gorges, the Dades gorges, the Kasbah of Ait Ben Haddou and Ouarzazate city. After going through these breathtaking journeys, you will finally get to the Sahara.
Once you get to the desert:
Morocco Sahara tour. There is no shortage of fun and interesting things to do to get the best out of your experience. Starting with camel trekking.
Camel trekking:
The main way of transportation used throughout history in the Moroccan Sahara desert is camel trekking. Nomads from the desert have been raising camels for centuries. And using them for transportation (of people and merchandise) and for food. Today, you can easily find camels in the Sahara available for visitors to mount and trek through the desert. Positively Morocco Tours always make sure that you will get to try this fun and interesting activity. While of course being guided by an experienced desert guide. The camels themselves are actually usually very friendly as they've been accustomed to interacting with humans for a long time. And the trek can last anywhere from 30 minutes to one hour and a half. Most of the time you will be taking these camel treks during the sunset. Which will bring you a magical experience of witnessing the sun go down and create pretty shades of red reflecting on the golden sand.
The desert camp:
Another interesting part about a Morocco Sahara tour is that you will get to spend one or multiple nights if you wish at a desert camp in the middle of the sand dunes. Desert camps vary depending on your budget and your personal preferences, they can range from high-end luxury camps that include air conditioning, hot running water for showers, charging outlets, a restaurant etc.… to simplistic camps with tents that resemble those used by the local nomads. Positively Morocco Tours will help you pick out a camp that meets all your requests, while of course safety and comfort remain guaranteed.
At the camp, you will be accompanied/served by locals that you can interact with and make the most memorable moments of your trip of your Morocco Sahara tour. The desert people are known for being fun and enjoyable to be around, and you will get to see this for yourself, so be prepared to sit around a campfire and enjoy a relaxed atmosphere while music is being played.
with our one day tours you can explore so many places contact us for more information!
What else can I do/see in the desert?
If you're visiting the Erg Chebbi desert on your Morocco Sahara tour, you will also get to visit the beautiful surrounding areas depending on the tour you choose. You can pay a visit to nearby villages such as Khamlia, where you can meet the Masters of the famous Gnaoua music art, or Rissani where you can walk around the traditional weekly market place. If you are more of a nature loving person, you can visit the nearby Serji Lake, also called the lake of Merzouga, where you can many seasonal birds flying around, including pink flamingos!
If you're visiting another Moroccan desert like the Erg Chigaga, you will also have a ton of things to explore and enjoy such as 4×4 rides through the desert dunes, sand boarding, sand bathing etc.… You can also pay a visit to the beautiful Iriqui national park, which is home to many wild and endangered animal species.
Bonus: Since the desert is so far away from big cities and light pollution, it is a perfect place to stargaze and clearly see the Milky Way while spending the night at the camp!
This is only a little glimpse from what a Morocco Sahara tour really entails. We strongly recommend that you come see the culture and the nature for yourself, so book a tour with Positively Morocco Tours to get the full experience! We guarantee that the Sahara desert experience will be something to take away from your Morocco trip, which will stay with you forever.